Q: What kind of processor is in my Mac?
Answer
In 2021, Apple began changing the processors inside their products from Intel to the Apple M1.
To find out more about the Apple M1 Processor, users can visit the following page at Apple's Website.
To find out if your Apple Computer has an Intel Processor or M1 Processor, you can do the following:
1.) Go to the Apple logo on the top left corner of the device, and from the drop-down choose "About This Mac"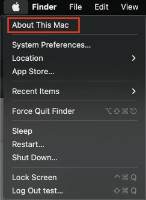 2.) In the box that appears, under the "Version" number look for the Make / Model of your product:
3.) Apple products with an M1 Processor will have "(M1)" listed. An example would be "MacBook Pro (13-Inch, M1, 2020).