Review the content, after completing a web-based training
Use the "view course" (not for credit) link, in the box to the right, to review the content of a course you completed that day.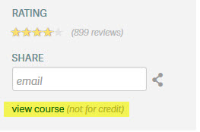 On the day you complete an MIT Learning Center course, you will not be able to relaunch it.
After a minimum of one day has passed since course completion, learners can choose to re-take a course, if desired.