Install and Connect to the Prisma Access VPN on Android
On this page:
Install
Install the GlobalProtect app from the Google Play Store.



Result: The GlobalProtect App is installed. Continue below to set it up and connect.
Connect
Open your GlobalProtect app.
Result: After the splash screen, it will ask you for your portal address.



Click on the thumbnails to open the full images.
Click Connect.
Result: You will be prompted to authenticate via Touchstone Authentication.
Authenticate using Touchstone Authentication.
Result: The VPN will attempt to start a connection. The first time you connect, you will be asked to accept the connection request.

After the first time you connect, simply open the app and tap the Shield to connect. You may be prompted to authenticate again depending on how long it has been since your last connection.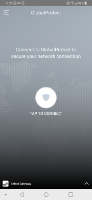 Disconnect
Open the GlobalProtect app.
See Also