Q: Why doesn't GlobalProtect VPN show public MIT IP addresses?
On this page:
Answer
If you are connected to MIT's GlobalProtect VPN and visit an IP address lookup website such as https://www.whatismyip.com/ you will likely see a non-MIT IP address like below:
It's only when you're accessing sites and services on MITnet that your IP address will appear to be an MITnet address (18.30.128.x or 18.28.128.y). It will appear to be a non-MIT Prisma Access IP address (as shown above) to sites and services that are not on MITnet. This allows for better connectivity to sites not on MITnet because your internet traffic is not required to pass through MITnet and can be routed more directly. It also allows the service to scale up more quickly as demand increases.
See the IP Address MITnet Sites and Services See
If you want to verify that you do have an actual MIT IP address, you can run a command in Command Prompt/Terminal to check your computer's IP address as seen below.
MacOS
Open the GlobalProtect VPN and Connect.
Once Connected click on the "hamburger menu" in to right corner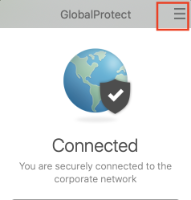 From the dropdown choose Settings


Choose the 2nd tab in the settings (Connection) and you should see Assigned Local IP
Windows
Press the Windows key and type in CMD into the search field and press enter.
Enter the command ipconfig /all and it will list all of your network devices.
Under the device with the description PANGP Virtual Ethernet Adapter you should see an 18. MIT address:
See Also