Adobe Creative Cloud FAQ
On this page:
What's the gist of MIT's Adobe Creative Cloud license?
MIT's Adobe Creative Cloud license is for use by MIT Faculty & Staff only on MIT_owned machines.
ONLY 1 of 2 logins
Adobe allows installation on ONLY 2 machines, and ONLY 1 can be logged in at any time. Please be aware of this if you can't login to a second machine you use.
It is NOT a Full Enterprise license,meaning that we have a limited number of licenses. It does not replace a Departments responsibility to; budget for and, provide its employee's with the tools they need to perform their job. Limited licenses are funded by the Institute, and distributed on a first come first serve basis.
Many common questions are answered on IS&T's Adobe Creative Cloud page.
We have NO Student or Affiliate licenses available through the terms of our contract agreement with Adobe. We are ONLY able to grant access to MIT Faculty and Staff ("eduPersonAffiliation: staff").
I just purchased a Adobe Creative Cloud subscription, what do I do... can I get a refund?
ONLY if you have been granted access to MIT Limited license
Cancel your existing Adobe Creative Cloud subscription
My personal Adobe ID is associated with my mit.edu email, what should I do?
How do I attach MIT's Adobe license to my Adobe ID?
See: Attaching MIT's Adobe License to your Adobe ID
Student Licenses: Purchasing information
Students can purchase Adobe Creative Cloud licenses at an educational discount through On The Hub as they are not covered by the limited licenses MIT has purchased.
Affiliate Licenses: Purchasing information
Affiliates are not covered by MIT's limited Adobe Creative Cloud license. We recommend that your department purchase Adobe VIP licenses through GovConnection.
The Adobe VIP program is a 12 month subscription with an annual renewal each year.
Please specify the type of license you wish to purchase.

Named user licenses, where you get 100 GB of storage, and online services (products such as Behance for portfolios), each user can install on a school owned computer and one other computer, maybe for home use. You will assign the licenses to a name and an email address, and can make changes at any time.
Device licenses, where the license is assigned to a computer (great for lab environments), this is less expensive than the named user licenses, but you only get one install per license, you don't receive the online services or the 100 GB of storage space.
Adobe VIP licenses can be purchased through GovConnection.
Go to the GovConnection portal through B2P.
In the top right corner you will find the contact information for Darren Gullen, our GovConnection Account Manager.
Contact Darren via phone or email for a quote for your Adobe VIP needs. (licenses can NOT be found in their B2P portal)
I just need Adobe Acrobat, is that possible?
No, it's not through MIT's license with Adobe. Acrobat is only available as a package with the Creative Cloud Suite.
There is an option to edit PDF's in Word 2016, please check out this page to see if this solution is all you need.
Why is my Creative Cloud still saying it's a trial?
Did you receive an email from Adobe with the Subject: "Access is granted. Enjoy All Apps plan now."?
Sample: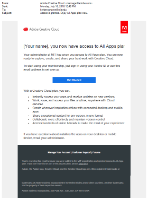 What if I had previously used the license script?
The script is no longer being used. Request a license from the IS&T's Adobe Creative Cloud page.
How do I end my 30 day Adobe Creative Cloud Trial license and attach MIT's license?
Your trial license will end once your Adobe ID is attached to MIT's Adobe license, which you can request on the IS&T's Adobe Creative Cloud page.
How do I install Adobe Creative Cloud with my Adobe ID?
All you need to do is Attach MIT's Adobe License to Your Adobe ID.
I am having trouble installing Adobe Creative Cloud applications, what should I do?
Adobe recommends that users follow Adobe's Adobe Creative Cloud Cleaner Tool instructions.
If you have installed Adobe Creative Cloud on too many machine and need to deactivate and installation use the instructions on the Adobe Help page for Activation and deactivation troubleshooting.
Are you having signing out/in errors?
Creative Cloud apps panel doesn't show installed Creative Cloud apps
In the Apps tab of the Creative Cloud desktop app, applications are not listed as installed. Or, they are listed as installed, but are not located in the Start Menu or Application folder. Find out how to resolve on Adobe's Help site. If that method fails, this Adobe Forum page suggests a language change to English (International) that worked for some.
How do I install older Adobe Creative Cloud applications?
Go to this page for instructions.
How many machines can I install Adobe Creative Cloud on?
Go to this Adobe Help page for instructions.
How can I get training?
Who should I contact if I need some pointers or support?