Search Help error in SAPgui
Q: Why am I getting a popup "Internal error: Table format" message and Cancel button when trying to use the 'Search helps' control option in SAP, similar to the example shown below?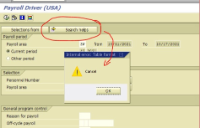 Answer
There is a known issue with F4 Help control 'ActiveX' functionality not being supported in SAP GUI 7.60 patch level 0 or lower with the introduction of 2021 year-end SAP support packages.
IS&T has addressed this issue by updating SAP F4METHOD user parameters to specify 'NoActiveX' until SAP GUI 7.70 is released to the user community.
To ensure uninterrupted operation of F4 'Search Helps' functionality, users should not change their F4METHOD user parameter to 'ActiveX.'
Example of "Search helps" with current "no control" option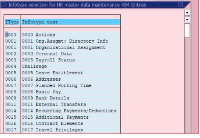 Example of "Search helps" with "control" option, not currently available

How to check user parameters in SAP
Users can run transaction SU3 in SAP, then select the Parameters tab to view their own user parameters.
If the F4METHOD parameter value is set to ActiveX the user can delete it by putting their cursor on ActiveX in the Parameter value field and clicking on the delete button
on the right side of standard toolbar above the Parameters heading, then enter NoActiveX in the Parameter value field, and click the save button
at the top of the SU3 screen in SAP so that F4METHOD parameter value will look like the screenshot above in SU3.
Interested in testing SAPgui 7.70?
If users would like to test SAP GUI 7.70, which supports 'ActiveX' 'Search helps' control functionality for drop-down menus, please submit a ticket with the subject line SAP GUI 7.70 testing pilot through the Service Desk, specifying whether you are a Mac or Windows user.