Casper - Restricting upgrades to macOS High Sierra
To prevent users from upgrading to macOS High Sierra, follow these steps in Casper: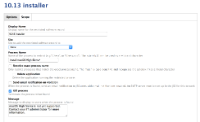 Go to the Restricted Software section and click New.
In the "Process Name" field, enter "Install macOS High Sierra*"
Uncheck the "Restrict exact process name" box.
Check the "kill process" box.
Add a message to display to the end user if they try to launch the High Sierra installer.
Click on the Scope tabs, and select the computers, groups, or users you want this restriction to apply to.
Save.
Software restrictions should take effect after on computers after their next checkin, which normally happens about once every half hour.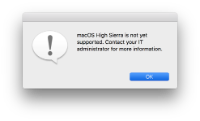 When a user tries to run the High Sierra installer, it will quit instantly and the user will see the message you specified.
If you need assistance creating restrictions or have any questions, please contact the Endpoint Management team at endpointmanagement@mit.edu.